The blog archive provides access to past blog postings from Communications of the ACM and other sources by date.
October 2016
---
From XRDS
Highlights from the first day of ACM CHI PLAY 2016 - the international conference on human-computer interaction in play. Continue reading →
The post CHI PLAY 2016 – Day 1 appeared first on XRDS.
---
From insideHPC
Over at CSCS, Simone Ulmer writes that the Swiss National Supercomputing Centre is turning twenty-five. First opened in 1991, CSCS supports users from Swiss and international institutions in their top-flight research and runs…
---
From Putting People First
The key to unlocking the insurance industry, writes Richie Hecker in TechCrunch, is understanding behavioral economics. The most successful players in insurance tech, he says, will win by rounding the edges on existing products…
---
From Putting People First

Ralph Ammer argues that interaction design is based on technological thinking and restricted to profitable applications, and proposes a new direction, which he calls "Natural Design", centered around biological systems. The principles…
---
From Putting People First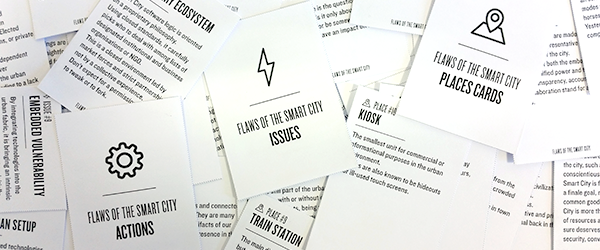 Flaws of the Smart City is a critical, workshop-tailored kit to explore the dark faces of the so-called Smart Cities. As any hardware or software piece, the connected cities embed flaws. This kit aims to fix these weak spots …
---
From insideHPC
Georgia Tech is taking on the challenge of moving computing past the end of Moore's Law by standing up a new interdisciplinary research center, which is known as CRNCH. "We knew that at some point physics would come into play…
---
From Phys.org Technology News
A technology company says it's fixed a problem that had prevented travelers from booking trips with some U.S. airlines this week.
---
From insideHPC
Designed specifically with researchers in mind, the Birmingham Environment for Academic Research (BEAR) Cloud will augment an already rich set of IT services at the University of Birmingham and will be used by academics across…
---
From Computational Complexity
I recently came across the following (I delete the name of the school)

and also add my own comments in caps as they relate to UMCP hiring

of professors.





X-University, located in YZ, in hiring professors

does not discriminate…
---
From The Eponymous Pickle
Clear to be a major player simply because it owns such a large part of the infrastructure that will provide data to AI systems.    Some indications of their becoming more open, which may help.   As expected, their views are grand…
---
From insideHPC
In this video from the Microsoft Ignite Conference, Tejas Karmarkar describes how to run your HPC Simulations on Microsoft Azure - with UberCloud container technology. "High performance computing applications are some of the …
---
From The Computing Community Consortium Blog
This blog post was co-authored by CCC Staff, Greg Hager, Computing Community Consortium (CCC) Past Chair and Professor in the Department of Computer Science at Johns Hopkins University, and Beth Mynatt, CCC Chair, Professor and…
---
From The Eponymous Pickle
Term new to me, but like in many systems, we implemented early simple versions.

What Is a Meta-DSP and Why Should Advertisers Care?  By Chris Dobson.  

  As Landscape Shifts, CRM Agencies Partner With Marketing Tech Firms
Over the…
---
From The Eponymous Pickle
Gartner: A.I. to become a top business investment priority
Analysts make subtle point about the potential of these systems to respond in unexpected ways ... "

Such systems are still not off the shelf, and I believe the investments…
---
From insideHPC
Many industries deploy graphics-intensive applications on single user workstations with individual GPU resources. For those who have switched to a virtualization based environment, many of the legacy desktop virtualization platforms…
---
From Phys.org Technology News
Midway through releasing a series of damaging disclosures about U.S. presidential contender Hillary Clinton, WikiLeaks founder Julian Assange says his hosts at the Ecuadorean Embassy in London abruptly cut him off from the internet…
---
From BLOG@CACM
H-index in Web of Science?
---
From The Eponymous Pickle
Furthers look at workplace bots.

What would you first want from a workplace conversation bot?  Reminders of how the current conversation relates to the knowledge derived from previous conversations, documents and analyses. Internal…
---
From The Eponymous Pickle
Interesting on state of the art.   Slackbots and beyond

Jassim Latif on workplace bots
The O'Reilly Bots Podcast: Bots that can respond to groups of users.
By Jon Bruner


---
From The Eponymous Pickle
Via O'Reilly,   ... 22 full-length lecture videos from MIT's OpenCourseWare AI course... "     MIT has been known to produce quality, free, technical courseware for a long time.  Worth looking at selectively.  These address the…
---
From The Computing Community Consortium Blog
Section 2 of The BD2K Guide to the Fundamentals of Data Science online lecture series, titled Data Representation Overview, starts October 28th with an overview from Anita Bandrowski, UCSD. The National Institutes of Health (NIH)…
---
From The Eponymous Pickle
I have been brought in to clean up after the use of Excel for data storage and analysis.  Still, it is unavoidable to address it's use, especially, but not limited to the small business.  Here from DSC, a look at useful add-ins…
---
From Computer Science Teacher – Thoughts and Information From Alfred Thompson
After over a year of hard work by a lot of people (I had a small role myself) the K–12 Computer Science Framework is now officially out.
Frankly I expect some criticism. This is computer science after all and we argue more than…
---
From insideHPC
"While we often talk about the density advantages of containers, it's the opposite approach that we use in the High Performance Computing world! Here, we use exactly 1 system container per node, giving it unlimited access to …
---
From insideHPC
Today the PASC17 Conference announced a track focused on Precision Medicine as Special Topic for Emerging Domains. "Precision medicine, also referred to as personalized medicine, is an emerging domain that is adding tremendous…
---
From Daniel Lemire's Blog
I have an ongoing bet with Greg Linden stating that we are going to sell 10 million virtual-reality (VR) units per year by 2019. I have been paying close attention to VR technology and its impact. What have we learned in theContinue…
---
From insideHPC
The HPC Advisory Council has posted their agenda for their upcoming China Conference. The event takes place Oct. 26 in Xi'an, China. "We invite you to join us on Wednesday, October 26th, in Xi'an for our annual China Conference…
---
From insideHPC
This year at SC16 in Salt Lake City, Dr. Thomas Sterling from Indiana University will present: Runtime Systems Software for Future HPC: Opportunity or Distraction? "As one of the SC16 Invited Talks, this presentation will provide…
---
From The Eponymous Pickle
Think with Google presents an interesting and fundamental view of brand in the customer journey.


---
From The Eponymous Pickle
Silicon Angle mentions Neo4j and what they are calling graph processing.  Good to understand.   Will be looking  at the reported update.  See their introductory piece.  Most interested in how this improves the use of data by

What…